India's music and instrument craftsmanship is based on oral tradition and demonstration. Often, artists can trace their heritage back five generations or more. The special techniques, skills and knowledge have contributed to an enormous cultural wealth carried on with immense pride.

Careful selection of materials, their preparation for shaping and designs used, combine to create wonderful instruments. Each one is subtly different from another. This hand crafted approach creates the necessary essence, giving them the special quality required for a truly playable, responsive instrument.

Each instrument can take a month or longer to create. During this time, a relationship grows between that instrument and the person creating it. In certain situations, strict machine like measurements cannot be applied due to the unique shape of that particular instrument. Each step has to be checked by eye and touch as well as where a measurement would be applicable.

Meeting domestic and foreign demand has forced many shops to take necessary shortcuts and bypass some critical steps in production. The quantity aspect may be satisfied but the resulting loss in quality is unavoidable.

The sense of family pride and traditional hand craftsmanship will maintain the legacy of finely crafted instruments. The Sitars and Tanpuras shown here are the result of this ideal, each crafted completely by hand like those of generations past. The artisans I have selected to assist in this instrument production are clearly devoted to the concept of "quality first". I am most pleased to have them assisting me.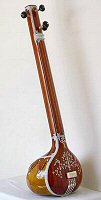 The Tanpura, an essential instrument in nearly all forms of India's music, provides a rich, warm, long sustaining drone. It is tuned to the selected tonic and dominant notes. To ensure the maximum resonance from these Tanpuras, only gourds grown in the southern Maharashtra areas of Sangli, Miraj and Pandharpur are used. These strong and thick gourds are considered the best in India. Each gourd is carefully selected for shape, size, consistent wall thickness and general appearance. After these gourds are cut and seasoned, they are coated on the inside with a copper nitrate solution to eliminate any possible mold, insect or worm damage.
The Tun wood for the neck and soundboard is selected making sure no edge sapwood or flaws are present. The front face has the grain centered, allowing sound vibration to evenly radiate across the entire surface. This greatly enhances the volume and richness of tone. The interior wood surface is carefully chiseled and planed to an even thickness. This also allows the entire surface area to resonate evenly.
Tuning pegs are selected and color matched before varnishing with absolutely no sapwood present. Extra attention is given here to be certain these pegs will not slip. The peg stems are sanded round rather than rough shaped with a file.
In all Karasek Sound string instruments, the wooden bridge saddles are made of Tun or Sheesham with care in finish work and proper fitting to the soundboard.
The binding is carefully cut and fitted in long strips. No scrap filler pieces are used. Decorative etching is deep, clean and consistent as well as simply beautiful. A French polish shellac finish is hand applied. This takes longer than a lacquer coating, but the result is absolutely gorgeous. Each Karasek Sound Tanpura is personally tested and fine adjusted to bring out its optimum performance characteristics.
The overall quality of these Tanpuras will be obvious. The additional attention to detail at every production step with the finest materials result in an instrument suitable for professional applications on stage or in the studio.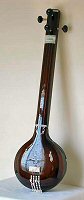 Karasek Sound also offers Tanpuras for use accompanying instruments like the Sitar, Sarod, Santoor and others. These Tanpuras are generally tuned about 1 octave higher in pitch than full size vocal Tanpuras. Their compact size and shallow bowl shaped resonator make these instruments very convenient to store or transport. The sturdy all wood construction and streamlined shape make them very comfortable to hold and play.
Also offered is a full size "Katchwa" Tanpura model with the resonating gourd cut horizontally. The result is an instrument with a full size soundboard that still maintains a shallow, streamlined profile. This is a very effective and practical solution where space is a consideration. This profile also allows much easier access to the strings when held upright and is very comfortable to play.
As with all Karasek Sound string instruments, only the finest materials are selected. Bone tuning beads, select wood with aligned grain, color matched and finely carved pegs all contribute to a superb instrument. Exceptional tone, volume and sustain is ensured. Every one of these Tanpuras is tested thoroughly by me before the name badge goes on.
---
Ever since the Sitar was first conceived nearly 800 years ago, it has undergone a slow but continual evolution. More strings have been added including an underneath layer of sympathetic resonant "taraf" strings. Additional frets have been installed on a now wider neck along with many other refinements. With only a few minor exceptions, the Sitar today can be categorized into two distinct families.
The "Gayaki" Sitar with its string configuration accommodates a playing style along vocal traditions. It is capable of producing very bright, clear tones with a surprisingly long sustain. The weight and balance of this style Sitar makes it easy to control and comfortable to play. The "Kharaj" Sitar retains the voice range of the "Gayaki" Sitar but includes 2 additional bass strings extending one octave lower in pitch. These rich lower notes emulate the ancient "Rudra Veena" and more recent "Sur-Bahar". Cascading harmonics are easily produced from the lower register, offering a powerful and magnificent sound.
The three "Gayaki" style Sitars featured here represent the finest re-creations of vintage sitars from the 1950's and 1960's.
Each one has been painstakingly examined at every stage of its construction to certify favorable comparison with the original instrument that inspired it. Extra time and attention has been given to details such as sharp carving, tight joinery throughout, matched and precision fitted pegs, finished fret ends with rounded thread slots, binding and trim that is uniformly cut and tight fitting, a finish coat on the neck that resists thread scarring and many other refinements. The bone peg tips are selected for flawless shape and matching size. Every gourd used for a Sitar will be slightly different in shape and size. This can affect bridge placement, which will then affect fret calibration and ultimately tuning peg position. Setting these parameters accurately has to be done individually and by skilled hands. Karasek Sound ensures these critical steps are followed with great care. By avoiding mass production methods and instead, adhering to time honored hand craftsmanship, each Karasek Sound Sitar maintains precise intonation and tracking at every fret.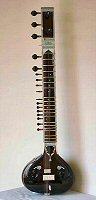 The "VK Necklace" Sitar is a magnificent reproduction of a Gayaki Sitar built in New Delhi during the late 1950's. The very attractive inlaid "necklace" at the base of the neck suggests understated elegance and classic vintage styling.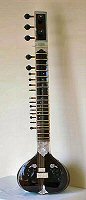 Another example illustrated is the "VK Pearl" Sitar, a faithful re-creation modeled from a mid 1960's Sitar made in Calcutta. This configuration can be seen in use by many of the top artists today. All of the aforementioned quality materials and construction aspects apply to this Sitar as well. The marine pearl trim piece at the tail post has been enlarged slightly from original specs to allow a larger track area for the tuning beads. Also, as an exclusive feature, a section of leather is glued to the bottom of the first string bone tuning bead. This provides a non-slip surface that eliminates the need for glueing unsightly and damaging strips of sandpaper to the body. The leather also leaves the polished wood surface undamaged.
Another Sitar available from Karasek Sound is the "Gayaki Pearl". The general design, materials and construction are to the same high standards as the "VK" models but a little extra floral carving and accents have been added.
All of these Sitars are truly professional grade instruments. They are ideal for the concert stage or recording studio. Each Sitar created is played and fine tuned upon completion. When this final inspection is passed satisfactorily, the Karasek Sound badge is installed. Only then is it considered acceptable and ready to play. With all Karasek Sound fine musical instruments, quality, sound and pride are the driving forces that create them.
---

The Kharaj sitar with bass strings and extra gourd resonator produces a very broad tonal range, strength of sound and enhanced sustain. Visually, these instruments are stunning. Rose blossom tuning pegs, lavish floral carving and intricately etched trim join to present a magnificent piece of art.
This particular sitar - The "Concert Grand", is modeled from a superb New Delhi sitar made in the mid to late 1950's. It is carefully crafted to maintain the vintage character of the original. Once the carving and etching are completed, final detailing is done with a surgical scalpel. This additional step, unique to Karasek sound instruments, brings out a visual depth and clarity not seen in years. All Karasek Sound string instruments receive this critical step in the production process. It involves a bit more time and expense, but the end result is an instrument that accurately compares to the fine vintage instruments from years past.
The upper "tumba" (resonator) is made from a proportionately larger gourd than usual to assist in generating maximum volume and tone. Wooden bowls seen on most current models offer little or no resonance and are not used here.
The neck has been widened and tilted slightly to allow additional pulling range for the first string that today's concert artists require. One other modification made is the relocation of taraf pegs allowing unobstructed positioning of the three highest frets.
This is clearly a concert grand instrument. Its solid construction and feel, accurate intonation and vibrant tone will more than meet the requirements of today's concert level artists.