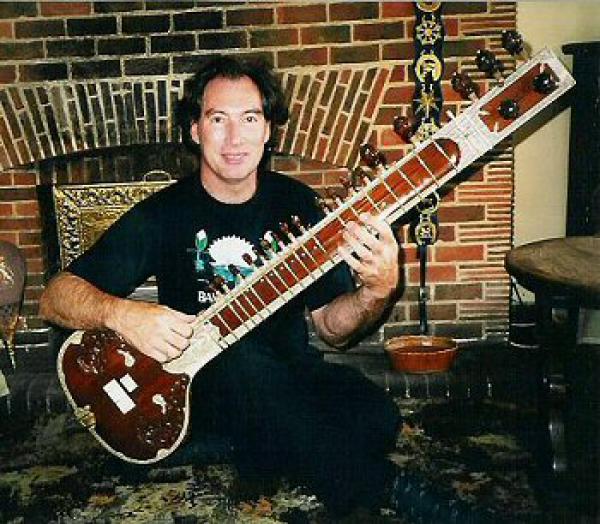 Greetings! My name is Tony Karasek. I have been actively involved in all aspects of India's music for over 30 years doing extensive instrument repairs, adjustments to concert artist's specifications, appraisals, teaching and performing. The musical instruments of India are my passion in life. Through these years I have collected, restored and generally taken care of every such instrument that comes my way. Many trips to India on independant research and as a buyer for California based music schools and shops have presented the opportunity to learn much about not only India's music but how their instruments are made and their unique design characteristics.
Due to increased market demand, the quality level of Indian instruments currently being produced has suffered significantly. (I made a living for years repairing them in California). Recognising this fact, I moved to Pune, India with my wife and family in April, 2003 to re-establish the high quality standards for instrument production. My intention is to produce a line of Sitars and Tanpuras based on those of the mid-20th century. After interviewing many instrument makers, I have selected one who understands and agrees with my objectives. I've brought along my vintage instrument collection, the best being used as models for the items shown here. The instruments now being built for me are to MY specifications and are very suitable for studio, concert use, advanced students or anyone who appreciates fine quality musical instruments.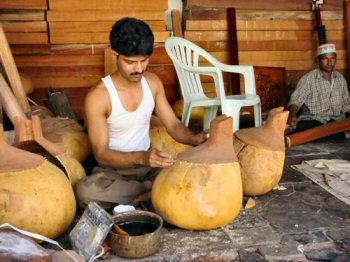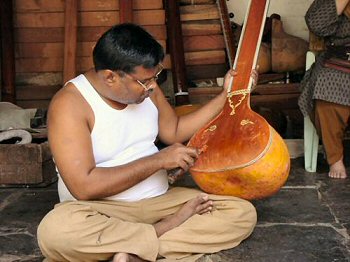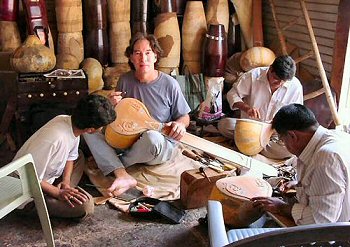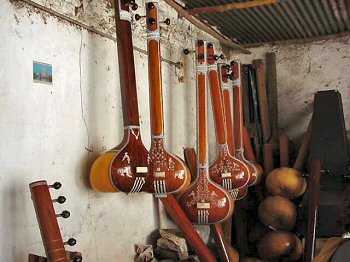 Every stage of the production process is personally monitored. That includes gourd and wood selection, interior inspection, general construction, varnish, trim and component quality. Details I am insisting on that no other maker is applying include the rounding of fret slots, fret edge smoothing, accurate peg placement, properly seated bridges and many other minute details. All instruments will be strung with either "Schaff", "Rosslieu" or comparable wire brought with me from California. I personally set up, detail and play every instrument before shipping and sit in as often as possible during the actual creation process. This will save the instrument's new owner a considerable sum in necessary repairs due to slipping pegs, loose frets, inferior wire and a host of other problems. There is no mass production here at any stage on these instruments.
Based on my years of experience, (both as a performing artist and technician), my passion for these instruments and my living situation here in India, I am completely confident that I can offer the finest Sitars and Tanpuras for export at a very reasonable price. I know of no one else who is independently overseeing this unique quality control aspect of finish detail work and performance testing. I am putting my name on these instruments. They have to be the best available.
Please contact me with questions you have or any further details needed regarding these instruments. I look forward to hearing from you and hope to provide these instruments for your business or personal needs.
Sincerely,
Tony Karasek
---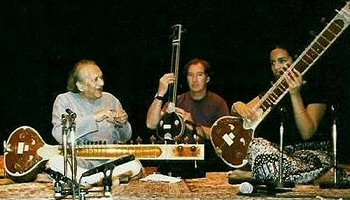 Over the years, I've had the pleasure of performing professionally on numerous instruments in a wide variety of venues. A six-year tour with 'Harem Caravan', a San Diego based Belly Dance review, provided the opportunty to develop skills on numerous Indian and Middle Eastern instruments as well as drums, guitar and electric bass. Numerous recording contracts have brought me in association with recording artists Richard Burmer, William Aura (Higher Octave Music), Nina Hagen (Virgin Records), Gary Herbig (Verve Records), 3rd. Force (Higher Octave Music), Fred Benedetti (Haynach Music), George Svoboda (Haynach Music) and many others.
Most noteworthy was a four-year tour with Pandit Ravi Shankar from 1996 - 2000 and additional tours with Anoushka Shankar.
Aside from being onstage with Panditji at venues around the world (Ravi Shankar & Anoushka Shankar Live: Raag Khamaj (1997)) assisting on the tanpura, my expertise was frequently called on to maintain the maestro's sitars as well as tabla drum maintenance for the accompanying artists. I later assisted Ustad Shujaat Khan and Abhiman Kaushal with their classes at UCLA for a three-year period in addition to preparing instruments for their personal use.
I have also provided sound samples for EMU Systems, inc. using aproximately 50 unique Indian instruments. These samples were then incorporated into the "Bombay Sound Bank" on their "EMAX II" keyboard and sound module. In addition, I have conducted numerous classes, workshops, and television presentations. My ever expanding vintage instrument collection has even been loaned to the Mingei International Museum of Folk Art and was presented as a lobby display at Pandit Ravi Shankar's Southern California concerts.
Now that I'm settled in India, I am devoting my attention to recreating instruments, particularly Sitars and Tanpuras of the highest quality in the standard and tradition of the mid-twentieth century.